Specialists in the provision of Bulk Haulage of Loose Waste, Recycling, Organic and Biomass materials.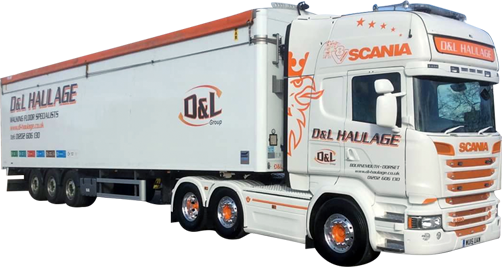 How does a Moving Floor Trailer work?
View this video to find out
Our impressive modern fleet of articulated vehicles operate with state of the art lightweight, high capacity Walking Floor® Trailers, which by their pure solid design allow materials to be loaded through the roof and then discharged via the rear of the trailer with the clever hydraulic moving floor operation linked to PTO of the vehicle.
This moving floor design negates the need for the dangerous requirement for the Trailer to be tipped up in the air to reject the load and also has the ability to eject the load within small confined areas.
With the added increase in Health & Safety, the higher percentage of our vehicles come with automatic sheeting systems, negating the requirement for the Driver to ascend the Trailer and manually roll the Sheet over the Trailer and the load. These sheeting systems encompass the whole of the Trailer with the addition of ratchet strap system securing the sheet to the Trailer making all loose material loads secure, safe and free from discharge during transit.
The versatility of the Walking Floor® Trailer means that materials both loose and palletised can also be loaded through the back doors and the moving floor action can be reversed and the materials or goods walked to the front of the Trailer.